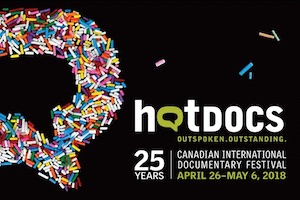 FESTIVALS
"Vivre riche" in competition at Hot Docs Toronto !
The film "Vivre riche" written and directed by Joel Akafou was selected by the Canadian festival Hot Docs of Toronto for the international mid-length competition. For its premiere in North America, the film will be screened in the presence of the director on Monday, April 30th and Tuesday, May 1st. You may find the information about the film on the festival website here.
Hot Docs Canadian International Documentary Festival is the reference festival devoted to documentary cinema in North America. We are very happy and proud of this selection that comes to dedicate the work of the whole team of the film, after the distinctions already received at the festival Visions du Réel, in Nyon, and Corsica.Doc, in Ajaccio.
Also, note another good news:
Vivre rich is part of the cycle "Africa: the colonization and its convulsions" proposed by Documentaire sur Grand Ecran as part of the 2018 Documentary Film Month, the film recently integrated the catalog of the association Documentaire sur Grand Ecran.
Vivre rich continues its route of the festivals in France and around the world, next stops: Belgrade in Serbia for the festival Beldocs IDFF, Tarifa in Spain and Tangier in Morocco for the festival FCAT, Rennes for the festival Etonnants Voyageurs and finally Paris for the Baatou Africa festival.